During the summer of 2016, Dee Broughton will return to Uzbekistan to offer a short 3-month training in academic research writing. Participation in the full summer project is limited, but the initial, four-day training, Fundamentals of Academic Research Writing (15-18 June at University of World Languages), is open to all interested writers and educators.
If you would like to attend trainings with the specialist, Dee Broughton, sign up for our mailing list. Information and instructions for training will be emailed to you.
Open Lectures at University of World Languages –
Fundamentals of Academic Research Writing: (15-18 June)
These first four days of the Summer 2016 Academic Research Writing Project are open to all interested educators and writers.
Lectures and discussions on the fundamentals of academic research writing will cover an explanation of
the purpose of academic writing as a means to enter into international academic discourse,
the purpose of the writer as one of contributing new knowledge to the field,
the importance of and methods for presenting ideas of others as distinct from but related to the writer's ideas, explanation of ways to avoid plagiarism,
essential parts of an academic research article and their relationship to research and citation,
need for secondary versus primary research,
topics as related to research questions in the field of study,
scope of the five workshops in the Summer 2016 Academic Research Writing Project.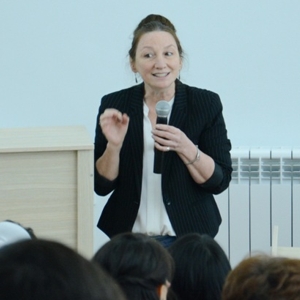 We wish to reach as many people as possible with this basic information at the start of the project so this fundamental training is open to anyone who is interested.
Participants should arrive ready to listen to lectures, take notes, and engage in discussion. This fundamental training is not "hands-on," rather it provides foundational information needed for engaging in any academic research writing.
Familiarity with the writing tasks in B2 Ready will be helpful. See activities 6-7, 9-13, 15, 17, 23, 25-26, 29, 38-39, 44-45, 49-51, 53-56, 61, 64-70.
Certificates will be awarded for 100% attendance and the certificate will allow the participant to be considered for acceptance into the summer academic writing project. Attendance in the Fundamental training does not automatically qualify a participant for participation in the summer workshops, but a certificate is required for acceptance. Participants who wish to earn a certificate must arrive on time and remain engaged in the lectures throughout the training.
The remaining summer project will consist of five workshops and is limited to 40 new participants who
have a solid B2 level of English comprehension,
are comfortable reading academic journal articles in English in their fields of study,
are involved in teaching English as a foreign language,
plan to write on a topic related to the field of language teaching,
earn a certificate for participation in 100% of the initial four-day Fundamentals of Academic Research Writing on 15-18 June,
demonstrate ability and commitment to write an academic research paper through submission of a developed topic proposal during Workshop #1 on 20-21 June.
Authors in the ESP Materials Design Project who wrote original texts for B2 Ready and who earn the 100% participation certificate in the Fundamentals of Academic Research Writing training are automatically eligible for the first summer workshop. They do not count against the limit of 40 participants. In other words, qualifying B2 Ready authors of original texts who attend 100% of the Fundamentals of Academic Research Writing AND an additional 40 new participants will be accepted into the full summer project.